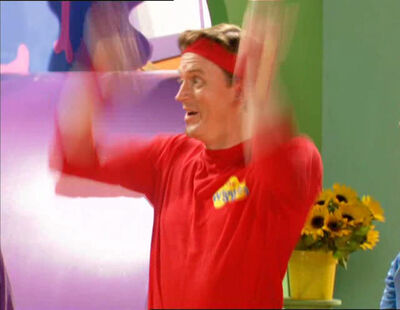 Murray is the original red Wiggle, known as the "king of guitars". He was the red Wiggle for 21 years, before being replaced by Simon Wiggle in 2013. He has since made cameos in some episodes of Series 7.
Character Information
He loves playing guitar, as he does off-screen, and is also considered the best musician of The Wiggles. Unlike the other three Wiggles, he only played guitar during his tenure, but he also played other instruments like the flute or the trombone on occasions. In some later videos, he played guitar in many songs rather than dancing. This happened starting with some of the Sam videos and continued during the Celebration era. He plays guitar throughout the concerts except for a few select songs. He eats pancakes for breakfast, and his favourite food is bananas.
In the original generation, he was sort of a secondary singer. His well-known lead songs are Five Little Ducks and Starry Night.
Gallery
Trivia
His favorite guitar that he used to play in the early days is the Red Starry Guitar.
He is 12 years older than Greg and 3 years older than Anthony, but 7 years younger than Jeff.
He eats pancakes for breakfast.
His favourite food is bananas.
He's a good detective, and inventor.
At Christmas time one of the things that he loves doing is getting presents for everyone.
Murray loves a good BBQ.
His appearances in the Stephen Squirrelsky and Friends' Movie Spoof Travels are The Forest Book 2 (TrainBoy43's Style), Nikki's Adventures of Sing Along Songs Episode 10, Madagascar (FamousImagination50's Style), Sleeping Beauty (Justin Quintanilla's Style), Aurorastasia, Despicable Me (Justin Quintanilla's Style), We're Back!: A Jungle Animal's Story, Jimmynocchio, and The Wizard of Oz (Uranimated18's Style) and will even be in more movie spoof travels. The image gallery for Murray Wiggle may be viewed

here

.