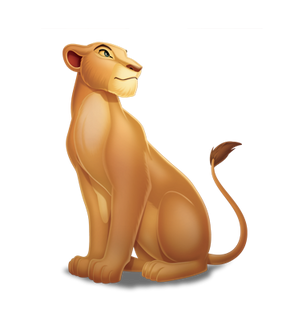 Nala is a lioness from The Lion King.
Voice Actors:
Moira Kelly (movies) - English
Gabrielle Union (The Lion Guard) - English
Riko Hanamura - Japanese
María Fernanda Morales - Spanish
Sarit Vino-Elad - Hebrew
She is a british girl
Adult Nala played Petunia Rhubarb in FunnyTales, FunnyTales in the Wild, and Threefold: The Heroes Who Don't Do Anything, alongside Kate.
She is a beautiful rhubarb and Larry's fiancé.
She is a human and Roger Radcliffe's wife.
She is a black cat
She is a Water Bender
Adult Nala played Concession Girl 1 in Front Row Orinoco
Adult Nala played Jenna in Simbalto
She is a Husky
She is a Heifer
Adult Nala played Princess Aurora in Sleeping Beauty (Coolzdane Style) and Ziraleficent
She is an Sleeping Princess
Adult Nala played Adult Jill Young in Mighty Baloo Young
Adult Nala played Bambi's Mother in Bagheera (Bambi)
She is a Deer
Adult Nala played Adult Faline in Simba (Bambi)
She is a Deer
Adult Nala played Queen Leah in Sleeping Kiara
She is a Queen
She is Jane's mother
She is a Mermaid
She is a Mermaid
She is Clara's Older Sister
She is an Tyrannosaurus Rex
She is an Arabian Princess
Adult Nala played Evelyn Penswald in Simba and Kovu
She is Jason Jeremiah's love interest
She is a swan
She is a French maiden
She is Pacha's wife and Chaca and Tipo's mother
Adult Nala played Mrs. Tortellini in Danny and Bagheera
She is Corey's mother
Adult Nala played One of the Ladies Laughing at Aladdin in Kovuladdin
She is a woman
She is a Princess
She is a Mother
She is a Moon Princess
Adult Nala played Fa Mulan In Nala (Mulan)
She is a Samurai
She is a Chinese Princess
She is a talking flower
Adult Nala Played Jane Porter In Simbarzan
She is a Beatiful British Woman
Adult Nala played Kairel in El Arca (CoolZDane Style)
She is a Grumpy Lioness
Adult Nala played Ella of Frell in Nala Enchanted
She is a cursed young lady
Adult Nala played Cinderella in Nalarella
She is a Maid
Adult Nala played Dragon in Diego (Shrek)
She is a Female Dragon
She is a Female Ant
She is a Pony
She is a Snow Queen
She is a Bee
Adult Nala played Muriel Goldman in Canal Famille Guy
She is Mort's Wife
She is a female bear
She is a Blue Triceratops Toy
She is Bagheera's Girlfriend
In her teapot form.
She is werewolf.
She is a smilodon.
Adult Nala played Neera in Animal (2000)
She is an iguanodon.
Portrayals:
Gallery:
Main article: Nala/Gallery
Poses
Trivia
Her appearances in the Stephen Squirrelsky and Friends' Movie Spoof Travels are Sleeping Beauty and will even be in more movie spoof travels.
Community content is available under
CC-BY-SA
unless otherwise noted.