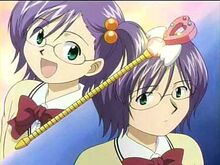 Nanaka Kirisato is the main protagonist of Nanaka 6/17. She is a senior high school student. For her, studying is the most important thing in the world so she has few friends. One day, after a fight with Nenji, she falls down a flight of stairs. This is what causes her memory to be lost back to the time when she was 6 years old. This 6-year-old Nanaka is a very spirited troublemaker and is obsessed with a children's anime television-show called Magical Domiko. The 6-year-old Nanaka is fond of saying the nonsensical words "hayaya" and "hawawa", and is recognizable by her side pigtail and wider eyes.
She represents the Element of Magic
Gallery
Community content is available under
CC-BY-SA
unless otherwise noted.