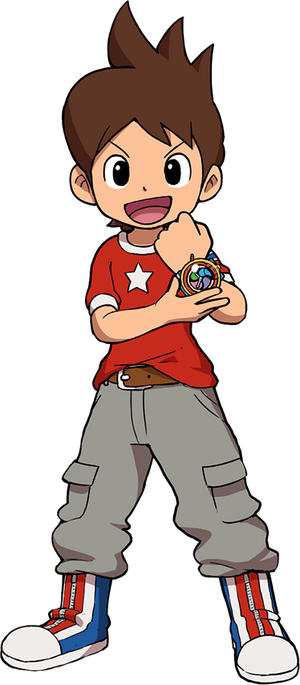 Nathan Adams is a human ad the main male protagonist from the original Yo-kai Watch.
Relatives:
Best Friends -

Inaho Misora

Girlfriend/Wife - Katie Forester
Brother - unknown brother
Adoptive Brother(s) - Moji,
Sisters - unknown sister
Adoptive Sisters - Pan,
Sister in-Law - Atsuko Kagari
Brother- in-Law - Naruto
Babysitter -
Father -

Aaron Adams

Mother -

Lily Adams

Mother-in-Law - Rebecca Forester
Adoptive Father - Ash Ketchum/

Domon Kasshu

(TR22P)
Adoptive Mother - Serena/

Rain Mikamura

(TR22P)
Grandfather -

Nathaniel Adams

Adoptive Granfather - Li Shang (TR22P)
Grandmother -

Lucy Adams

Adoptive Grandmother - Fa Mulan (TR22P)
Children - Natsume Amano and Keisuke Amano
Cousins -
Aunt - unknown aunt
Uncle - unknown uncle
Uncles in Law -
Roles:
He is the Avatar.
Appearances:
He portrayed Tommy Dratton in the series Cold Case Toonime (Rotten Seeds Production) in S4E23 entitled The Good Death. He had a bitter relationship with his dad Jay Dratton (portrayed by Miguel Santos) when he was a teenager, but when he was a kid (portrayed by TK Takaishi (Adventure 01 appearance)), he was always praised his dad. He maybe an arrogant child but deeply he still cares for his father although he didn't let him feel it until his dad's death where he deeply regrets everything he had done when he was trying to reach with him again on its last breath. His mother Carol Dratton (portrayed by Maya Santos, Miguel's twin sister in real life) was the one who euthanized Jay in the end, but it was only done by Jay himself as he wished that Carol must done the injecting of morphine to finally laid him in peace. He later sees his father's ghostly image on the shore (where they first bonded together) with his mother.
Just Dance Appearances
Nate Adams/Keita Amano is also existed in Just Dance 2018 dance game as a dancer in 4 different choreos.
He is also the dancer for Just Dance 2019 for the song Narco

Coincidentally, he is also the character who teases for the song (the live one actually). He will be seeing on the scenario that he is reading the royal scroll, while playing the trumpet. Then when he sees the camera, he closes it with his hand, then when it removed he turn to an animated version of himself, then saying "Not all journey ended the way as you expected, get ready for the new journey on Just Dance, All You Gotta Do is Just Dance!" then when he closes the camera with his hand, the screen turns black then the Just Dance logo appeared.

He is also supposedly the dancer for Dame Tu Cosita, but scrapped out for unknown reason.
He appeared once again on Just Dance 2020 (alongside Jibanyan, Edward Archer, and Bear Bernstein) for the song Everybody (Backstreet's Back)
Gallery: