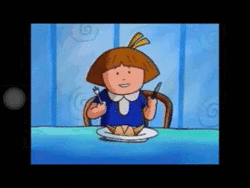 Nicole is one of the twelve little girls, being very close to Madeline, along with Genevieve, Chloe and Danielle.
Appearance
Nicole is a girl with black eyes and short tawny blonde hair ending beneath her ears.
Personality
Nicole is known as a "late bloomer" due to struggling with reading and her studies. She is very sweet, silly, cute and innocent, but can be naive at times as a result.
Trivia
She plays the clarinet in Madeline and the Old Violin and Madeline and the Ice Skates.
Her American pen-pal in Madeline's Halloween is Maria.
She is the most timid of the girls and has a fear of mummies.
In the earlier seasons, she often slips from a French accent to an American accent, though, this is most likely an error on her voice actress' part.