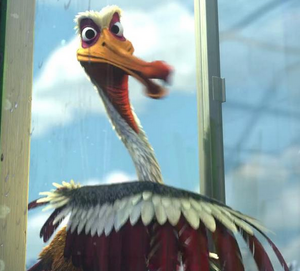 Nigel is the main antagonist of Blue Sky's Rio franchise, serving as the central antagonist of Blue Sky's sixth feature film Rio, the main antagonist of the spin-off game Angry Bird: Rio and one of the two main antagonists (alongside Big Boss) of its 2014 sequel Rio 2.
He played as Captain Hook in Blu Pan
He is a Pirate 
He played Boba Fett in Animation Star Wars
He played as Dabio the Raven in Sleeping Kiara
He is Maleficent's pet raven
He is Jafar's new partner & thief
He played as Jafar in Bluladdin and

Bluladdin: The Return of Nigel
He is a sorcerer
He played Iago in Chrisladdin, Chrisladdin: The Return of Prince Hans, Chrisladdin and the King of Thieves
He is a parrot
He played Michael Kingsworth in

Balto and Tramp
He is a bully
He is a bully
He played Shan-Yu in Jewelan
He is The Leader of the Hun Army
He is a laughing hyena
He is a snake
He is a Vulture
He is a lizard monster
He is a mean lion
He is a fox
Nigel is an alcoholic. He is constantly seen drinking from a beer mug and becomes disappointed whenever he runs out. During Hopper's song, when Hopper dumps a bottle of champagne into his water fountain,Nigel gets very excited and immediately runs over to the fountain, where he starts drinking from it. Then Hopper kicks him and Nigel falls and starts swimming around in it. When Hopper talks about his history with Dumbo, Nigel starts crying about the part that Hopper never had a moment's peace in mind.
Later, when they are finishing up a verse of the song, he drunkenly says, "To Hopper, the world's greatest rat!", which makes Hopper very mad (as he despises being called a rat). He throws him outside the hideout and summons Prince John with a bell. However, Nigel is too drunk to notice him, and she easily catches and eats him. Nigel starts drunkenly singing the praises to Hopper, and is swallowed whole just as he is about to call his vengeful boss a rat again. After a short period of mourning from the other henchmen, Hopper suggests that they finish the song before he has Prince John eat the rest of them, which they do out of fright.
Potrayals
In Gravity Falls (Rio) Played by Bea Goldfishberg
In Rio (Human version) Played by Mercenary Tao
Gallery