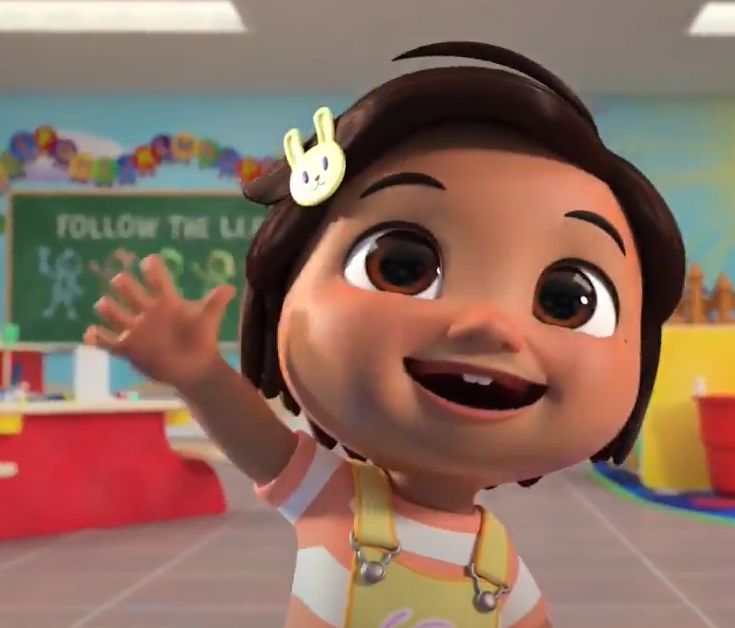 Nina is one of the child characters in Cocomelon, and is part of Melon Patch Elementary's preschool program in which JJ, Cody, Cece, Bella, and Nico are also a part of. She could be seen in the music videos, smiling, playing, laughing, dancing and singing along with the rest of her playmates. She's also Ms.Appleberry's daughter.
Appearance
Nina is a young child with a tan complexion. She has chocolate brown hair, which has been cut short. Some fringe is tucked in her left ear and is held back with a yellow hairclip in the shape of a bunny. Her eyes are about the same colour as her hair, and her front teeth have appeared to have grown.
Her daily outfit consists of a pair of fun yellow overalls over a white and orange striped shirt. Her overalls have a few print designs patterned on them, including a white figure of a bunny in the front and a carrot print on the left leg. She tops it off with some white socks underneath a pair of lime and pink coloured sneakers.
Personality
As Cocomelon is a show for kids, most of the characters are normally seen to be cheerful and friendly. However, Nina seems to be one of the most energetic and cheerful characters in the whole show. In the music videos that she is featured in, it is apparent that Nina is always the first one to play and dance. Additionally, in "Nap Time Song", it is noticed that she was the only one among her classmates to not have been tired, and even asked Miss Appleberry if she could keep playing.
Gallery: