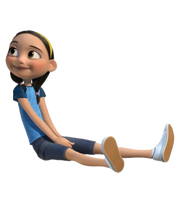 Nina's the young farm girl from Ferdinand (2017). She's voiced by Lily Day in the entire franchise. 
Parodies she Stars In
She's a young princess with 7 Smurfs: Jokey, Clumsy, Hefty, Brainy, Greedy, Drowsy and Grouchy and Miguel Rivera as her 1 true love.
She's Miguel Rivera's 1 true love and the worker at the Dragon Wash.
She's the village maid and later young princess hero who breaks the curse.
She's a mermaid and later a young human princess who falls in love with Miguel Rivera on dry land.
She's part of the Triwizard tournament and also Miguel Rivera's romantic interest.
She's a servant girl and later a young princess who falls in love with Prince Miguel.
Gallery: