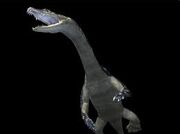 Nothosaurus
 ("false lizard", from the Ancient Greek nothos (νόθος), "illegitimate", and sauros (σαῦρος), "lizard") is an extinct genus of sauropterygian reptile from the Triassic period, approximately 240-210 million years ago, with fossils being distributed from North Africa and Europe to China. It is the best known member of the nothosaur order.
Gallery
Books
Sea Monsters: Prehistoric Predators of the Deep
Community content is available under
CC-BY-SA
unless otherwise noted.