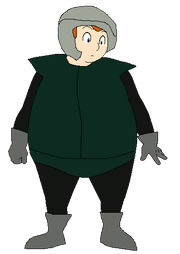 Num is the assistant of Valora and the secondary antagonist in Rosemary Hills.
Voice Actors:
Rob Paulsen - English
Appearance:
Num is a fat short man with a black suit, gray hat, gloves, and boots.
Personality:
He is known as clumsy, dimwitted, insane, cowardly, and goofy.
Quotes:
The Spooked-Up at the Old Mansion:
I know you. You're a ghost.
Milly vs. Valora:
We're gonna knock you out! (his last words)
Gallery: