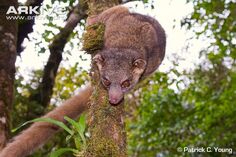 Typically feeding on fruit and flowers, the olingo (genus Bassaricyon) has also been known to consume insects and small vertebrates. The olingo is often confused with the closely related kinkajou, due to its similar appearance and behaviour. A tree dwelling species, the olingo is believed to be most active at night. The olingo can be found in Central and South America.
Roles
Gallery
Is a Crocodile a Reptile?
Books
See Also
Community content is available under
CC-BY-SA
unless otherwise noted.