The Omega Racers were the Hot Wheels and Power Rangers-Themed team of racers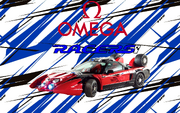 Plot
 The Omega Racers will race to save the world and the zones of the internet from the evil Viruses
Members
Tyler Klause (Leader)
Fang Klause
Maddie Klause
Steel/Silver Ranger
Miles
Minako Aino
Silver the Hedgehog
Blaze the Cat
Bodi (Mentor)
Darma (Mentor)
Germur (Mentor)
Angus Scattergood (Mentor)
Adagio (Joins Team)
Ultraman (Founder/Mentor)
Sonic the Hedgehog
Knuckles the Echidna 
Amy Rose
Shadow the Hedgehog
Sento Kiyru/Kamen Rider Build
Ryuga Banjo/Kamen Rider Cross-Z
Vix
Captain Police
Gallery
New Recruits
Grey
Bianca
Grey Jr.
Moz
Lyra
Ziko
Bucho
Louis (Sheep & Wolves)
Magra (Deceased Mentor)
Mami (Sheep & Wolves)
Simone (Sheep & Wolves: Pig Deal)
Spark the Monkey
Chunk
Justin Stewart/Blue Ranger (Joins Team)
Meika
Tag
Gallery
Recurring Characters
 Sailor Moon
 Len/Kamen Rider Wing Knight
 Foxy
 Mangle
 Fang
 Sulley
 Mike
Keiko Kubota (Tyler's Crush)
Wakana Otaki
Hikaru Masai
Kaori Oda
Gallery
Locations
Omega Racer Megazord Combonations
Tridoron, Ixalion, Ride Shooter, and Auto Vajin: Omega Racer Megazord
Hiden Risephone and Ride-Crosser: Turbo Drag Omega Megazord
Cooper Van, Battle Hopper, and Ride Vendor: Omega Cheetah Hopper Megazord
Speed Star, Tails' Velchile, Pink Carbolet, Land Breaker, and G.U.N. Auto Tread: Omega Speed Turbo Megazord
All of the Velichles: Omega Racer Fusion Gigazord
Velichles for Races
Tyler Klause: Tridoron
Adagio: Auto Vajin
Maddie Klause: Ride Shooter
Steel: Jet Zord
Miles "Tails" Prower: Tails' Velichle
Sonic the Hedgehog: Speed Star
Knuckles the Echidna: Land Breaker
Shadow the Hedgehog: G.U.N. Auto Tread
Sento Kiryu/Kamen Rider Build: Build Phone/Machine Builder
Ryuga Banjo/Kamen Rider Cross-Z: Ride Crosser
Vix: Hiden Risephone/Rise Hopper
Grey: Battle Hopper
Bianca: Ride Vendor
Gallery
Devices for Inserting Car Keyholes Upgrading Turbo Speed and Portal Traveling
Gallery
Insert Key Phrase
Key Inserted Phase
Key Turbofied Phase
Megazord
Turbo Drag Omega Megazord
Omega Cheetah Hopper Megazord
Omega Speed Turbo Megazord
Omega Racer Fusion Gigazord
Gallery
Megazord Comboination Phase
Omega Racer Megazod Combine Now!
Megazord Sequence Phase
Megazord Form Phase
Omega Racer Megazord Reving Up!
Songs
Soundtrack
2.Beat It
Future Recruits
 Wave Rose
 Aurora Rose
 Sly Cooper
 Carmelita Fox
 Benjamin Cooper
 Gary Supernova
 Scorch Supernova
 Kira Supernova
 Kip Supernova
 Gabby Babblebrook
 Io
 Thurman
 Doc
Jesse Wackman/New Screenslaver (Time Traveller)
Gallery
Alies
Rei Hino/Sailor Mars (Tyler Klause's Love Intrest)
Optimus Prime
 Bumblebee
 Ratchet
 Hotshot
 Jetfire
 Inferno
 Ironhide
 Wheeljack
 Downshift
 Cliffjumper
 Arcee
 Omega Supreme
 Rodimus Prime
 Shine Ortiz (Benjamin Cooper's Crush)
Professor Ichiroubei Hiiragi
Gallery
Vilians
 Evox (Founder/Mentor/Leader)
 Baldi (Arrested)
 Linnux (Joins Team)
 Trey (Joins Team)
 General Grawl (Arrested)
 Blaze
 Roxy
 General Zhong (Eaten by Godzilla during Godzilla's Cameo Appearance)
 Drew Lansing/Kamen Rider Torque (Defeated)
 Muggshot (Drew Lansing's Friend)
 Ragear (Linnux's Brother)
 Gark (Linnux's Son)
 Malware
The Darkest Faerie
Dregs
Gallery
Supporting Vilians
Captain Kalus
Zemerik
Ultraman Dark
Ultraman Treager
The Shredder
Tengas
Putties
The Dark Ace
Emperor Bog
Dr. Damage
Gallery
Episodes
Future Episodes
6. Fury Rage
10. Night of Frights
11.Joker Face
12.The Return of Blaze and Roxy
14.Just Fight
21.The Good Guys are here to fight 
22.Meika turns herself about she is a daughter of Bodi and Darma 
26.Christmas Specail: Alpha and the Omegas
Community content is available under
CC-BY-SA
unless otherwise noted.