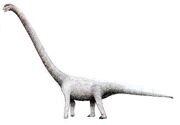 Omeisaurus (meaning "Omei lizard") is a genus of sauropod dinosaur from the Middle Jurassic Period (Bathonian-Callovian stage) of what is now China. Its name comes from Mount Emei, where it was discovered in the lower Shaximiao Formation of Sichuan Province. Like other sauropods, Omeisaurus was herbivorous and large.
Gallery
Community content is available under
CC-BY-SA
unless otherwise noted.