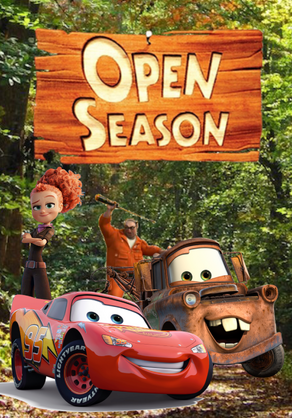 a spoof of Open Season.
Cast
Boog - Peter Pan
Elliot - Victor (Leap!)
Shaw - Vector (Despicable Me)
Beth - Shank (Ralph Breaks The Inernet)
McSquizzly - Captain Quark (Ratchet & Clank)
Reilly - General Posada (The Book of Life)
Ian - Joaguin (The Book of Life)
Giselle - Felicie Milliner (Leap!)
Gordy - Buck Cluck (Chicken Little)
Bob - Grandpa Bill (All I Want for Christmas Is You)
Bobbie - The Mother (The Little Prince 2015)
Mr. Weenie - Mr. Prince (The Little Prince 2015)
Serge - Gene Meh (The Emoji Movie)
Deni - HI-5 (The Emoji Movie)
Buddy - Doogal (The Magic Roundabout)
Rosie - Cora Veralux (Ratchet and Clank)
Maria - Sugar Plum Fairy (Starnge Magic)
O'Toole - Hector (Coco)
Bunnies - Veggietales Characters
Fifi - Rattlesnake Jake (Rango)
Roberto - Benny (The Wild)
Stanley - Igor (2008 Film)
Roger - Sherlock Gnomes
Rufus - Mr. Sykes (Shark Tale)
Charlene - Mac (Chicken Run)
Doug - Bog King (Strange Magic)
Ursa - Melody (The Little Mermaid 2: Return to The Sea)
Gisela - Anna Sackville Bagg (The Little Vampire 3D)
Giselita - Cindy Lou Who (The Grinch 2018)
Elvis - Nate Gardner (Storks)
Alistair - Spamley (Ralph Breaks The Internet)
Werewolf - Thorp (Smallfoot)
Ed - Guy Gagne (Turbo)
Edna - The Fairy Godmother (Shrek 2)
Gallery
Community content is available under
CC-BY-SA
unless otherwise noted.