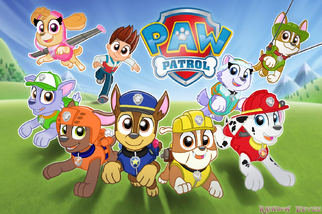 PAW Patrol by Rainbow Eevee are random scenes from the show "PAW Patrol" redrawn by Rainbow Eevee (RainbowEevee-DA, RainbowEeveeYT, RainbowEeveeDE).  The images include scenes from PAW Patrol, Air Rescue, Jungle Pups, Sea Patrol, Ultimate Rescue, Mission PAW, Mighty Pups, Mighty Pups: Super Paws, and other themes of PAW Patrol. There are over 400+ pictures and 100+ vectors drawn of PAW Patrol by yours truly…
PAW Patrol by Rainbow Eevee started 5 May 2019 when Rainbow started drawing on Derpibooru in February 2019 and gained an interest for drawing PAW Patrol again and started to go on DeviantArt where she posted her first picture of Rocky on a surfboard from PAW Patrol.  The art can be found on the pages of Rainbow Eevee's  Deviantart, Furaffinity, New Grounds, and a Pinwall on Pinterest named "PAW Patrol by Rainbow Eevee" by JaIchLiebePlätzchen. 
The PAW Patrol Pups are in most of the pictures and some pictures include other characters and background characters of the show. Marshall is the most drawn character/pup of PAW Patrol by Rainbow Eevee than any other character/pup on the show.  Here is the list of the most drawn pups in PAW Patrol by Rainbow Eevee (most drawn to least drawn):
1. Marshall
2. Rocky
3. Skye
4. Chase
5. Zuma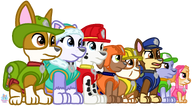 6. Rubble
7. Everest
8. Tracker
Please take a look at some featured pictures from PAW Patrol by Rainbow Eevee in the gallery!
Community content is available under
CC-BY-SA
unless otherwise noted.