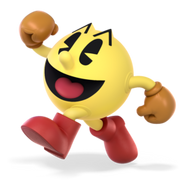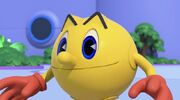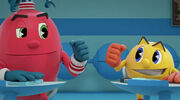 Pac-Man is the main protagonist of Pac-Man and the Ghostly Adventures. Pac-Man is the last of the yellow Pac-Worlder. Commander Betrayus Pac is also an orphan that just found out that it's his destiny to defeat the ghosts and send Betrayus back to the netherworld permanently. With the help of Cylindria , Spiral, Sir Cumference (Pac-Man) and the ghost gang (Blinky (Pac-Man), Inky (Pac-Man), Pinky (Pac-Man) and Clyde (Pac-Man)) he's ready for action.
He is a tank engine
He is a unicorn
He is a horse
He is a fire unicorn
He is a main front loader
He is a hedgehog
Portrayals
Gallery:
Community content is available under
CC-BY-SA
unless otherwise noted.