Pajama Sam is a character and the main protagonist in the Pajama Sam series.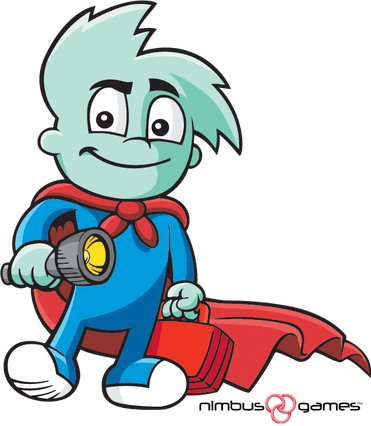 Pajama Sam is Humongous' fourth main character, first debuting in 1996. He is the only human, Junior Adventure character Humongous ever produced. His adventures all seem to be based off his imagination, as shown by the Alice-In-Wonderland-like adventures through weather factories, piles of dirty clothes, closets, and lands populated by food. Altogether, Sam starred in seven games from 1996 to 2003. he is the Cousin of Penny Peterson.
Also Known For Stephen Squirrelsky
He is one of Stephen and Andrew's friends.
He played the Footman in Vanessarella
Gallery
Trivia
His appearances in the Stephen Squirrelsky and Friends' Movie Spoof Travels are FernGully: The Last Rainforest, A Pooh in Central Park, Bubblesrella 2: Dreams Come True, The Brave Little Piglet, Kung Fu Owen, Nikki's Adventures of Sing Along Songs Episode 8, The Thomas O'Malley Movie, Kermit Returns, Fievel the Red Nosed Mouse and The Island of Misfits, Nikki's Adventures of Sing Along Songs Episode 9, Cloudy with a Chance of Meatballs, Finding Alvin, Animated Tale, The Forest Book 2, and Nikki's Adventures of Sing Along Songs Episode 10 and will even be in more movie spoof travels.
Community content is available under
CC-BY-SA
unless otherwise noted.