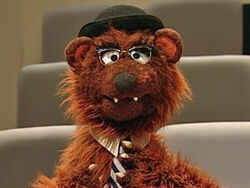 Papa Bear is one of the famous Three Bears, with Mama Bear and Baby Bear. A fourth member of the family was added with the birth of his new daughter, Curly Bear.
Papa Bear appeared as early as Season 24, and as revealed in Episode 3881, he works at the honey factory. In episode 3906, Papa Bear invented a perpetual porridge machine. In season 45, Papa Bear received a slight redesign; his eyebrows were made more diagonal, showing more of his eyes.
In Elmo's Musical Adventure: Peter and the Wolf, Papa Bear visits his old friend, Boston Pops conductor Keith Lockhart.
According to Elmo's World: Happy Holidays!, Papa Bear and his family are Jewish.
Filmography
Sesame Street
"

Don't Forget to Watch the Movie

"

Elmopalooza

Sesame Street Goes to the Doctor

Elmo's Musical Adventure: Peter and the Wolf
Elmo's World: Happy Holidays!

Talk, Read, Write

Elmo's Christmas Countdown

Food for Thought

Once Upon a Sesame Street Christmas
Episodic appearances
Season 24

:

3018

Season 25

:

3148

Season 26

:

3269

,

3337

Season 27

:

3399

,

3428

,

3453

,

3488

,

3491

,

3508

,

3509

Season 28

:

3534

,

3539

,

3552

,

3583

,

3591

,

3616

Season 29

:

3657

,

3668

,

3683

,

3684

,

3688

,

3709

,

3719

,

3774

,

3778

Season 30

:

3796

,

3807

,

3816

,

3834

,

3837

,

3844

Season 31

:

3851

,

3881

,

3890

,

3893

,

3906

,

3914

Season 32

:

3953

,

3966

Season 33

:

3985

,

3996

(VO),

4002

,

4011

,

4023

Season 34

:

4054

,

4055

,

4056

Season 35

:

4059

,

4066

,

4076

Season 36

:

4087

, 4093

Season 37

: 4120

Season 39

:

4186

Season 40

:

4193

Season 43

:

4304

Season 44

:

4423

Season 45

:

4521
Book appearances
Spring Fever

(2001)

Good Night, Tucked in Tight

(2007)

Have Yourself a Furry Little Christmas

(2007)

Elmo's Christmas Countdown

(2008)

My Big Book of Firsts

(2009)
See also