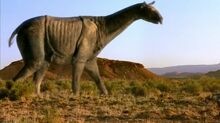 Paraceratherium, Indricotherium, or Baluchitherium is an extinct genus of hornless rhinoceros, and the largest terrestrial mammal that has ever existed. It lived from the early to late Oligocene epoch (34–23 million years ago); its remains have been found across Eurasia between China and the former Yugoslavia. Paraceratherium is classified as a member of the hyracodont subfamily Indricotheriinae. Paraceratherium means "near the hornless beast", in reference to Aceratherium, a genus that was once thought similar.
Roles
Gallery
Books
See Also
Community content is available under
CC-BY-SA
unless otherwise noted.