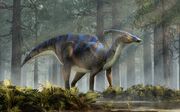 Parasaurolophus is a genus of ornithopod dinosaur that lived in what is now North America during the Late Cretaceous Period, about 76.5–73 million years ago. It was a herbivore that walked both as a biped and a quadruped. Three species are recognized: P. walkeri (the type species), P. tubicen, and the short-crested P. cyrtocristatus. Remains are known from Alberta (Canada), and New Mexico and Utah (USA). The genus was first described in 1922 by William Parks from a skull and partial skeleton found in Alberta.
Roles
Portrayals
Gallery
Books
See Also
Community content is available under
CC-BY-SA
unless otherwise noted.