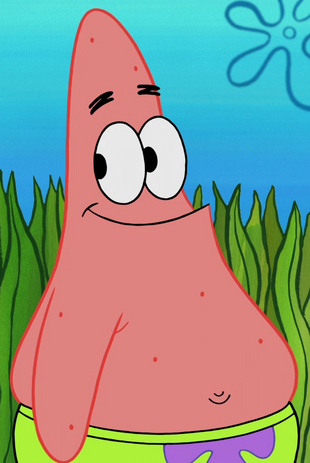 Patrick Star is a starfish from SpongeBob SquarePants.
Bio
Allies: Spongebob (best friend), Squidward (neighbour, sometimes), Mr. Krabs, Sandy, Gary, Pearl, Mindy, Larry, Mrs. Puff, Plankton, Mermaid Man, Barnacle Boy, Cameron, Topper (together with Spongebob as an 'ohana).
Rivals: Squidward
Enemies: Plankton (sometimes), Squidward (sometimes), Flying Dutchman, Dirty Bubble, Man Ray
Patrick Star played Speed in The Sabertooth Princess
He is a tortoise
Patrick Star played Chewbacca in

Star Wars (ToonJoey34 Style)
He is a wookie
He is Slappy's assistant
He is a donkey
He is a panda
Patrick Star played King Louie in The Meta Book
He is a Crocodile
Patrick Star played Tito in

Yoshi and Company
He is a Chihuahua
Patrick Star played Mina/Sailor Venus in

Sailor Spongebob
He is a walrus
He is a dog
He is a doorknob
Patrick played Tom Grape in God Wants Me to Forgive Them and Other stories
He is a grape
Patrick played Riley McCallister in

Skunk and Spike
He is an idiot
Patrick played Iago in Zigladdin
He is parrot
Patrick played Pumbaa in The Watterson King
He is a Warthog
Patrick played Louis in

The Princess and the Sponge
He is a Alligator
She is a raptor
He is a clock
He is a woodpecker
He is a video game character
He is a antagonist turned- heroine
Other Appearances
Patrick Star was first introduced on Just Dance 2014 though the other Spongebob casts was introduced since the beginning of the game. So far he was been known as the dancer for the song Shaky Shaky on Just Dance 2019 (where coincidentally that the real coach of the said song on the game was relating to him somehow due to the similarity of their appearances in public).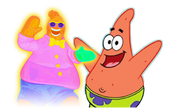 Portrayals:
In The DannyBob CatPants Movie, he is played by Baloo
In

The YogiBob BearPants Movie

, he is played by Boo-Boo Bear
In The ArthurBob ReadPants Movie, he is played by Rafiki
In The LeapBob FrogPants Movie, he is played by Snoopy
In The RobinBob HoodPants Movie, he is played by Little John
In Spongebob Squarepants spoof for Paris2015 he is played by ???.
In StanleyBob GriffPants, He is played by Dennis
In D.W.Bob ReadPants, He is played by Joy
In BubblesBob UtoniumPants, He is played by Starfire
In JoyBob EmotionPants, he is played by ???
In SuperWhy ReaderPants, he is played by Wayne Werewolf
In The PaperBob LooseleafPants Movie, he is played by Homestar Runner
In ElmoBob MonsterPants (LegalizeAnytingMuppets Style), he is played Ernie
In Batreg Bluepants, he is played by Hermey
In Spinelbob Clownpants and LisaBob SimpsonPants, he is played by Wednesday Addams
In The TV Show, he is played by Kion
In The RemyBob RatPants Movie, he is played by Mario.
Gallery: