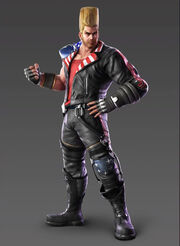 Paul Phoenix
 is a character in the 
Tekken series
 who made his debut in the first 
Tekken
 game and since then has appeared in every game to date. He is a hotheaded, aggressive character, determined more than ever to win the King of Iron Fist Tournament to prove he is the best fighter in the entire universe.
Although he gets close several times (especially in Tekken 3), Paul has never won a tournament. Despite his initial setup in the first game as a possible rival to Kazuya, as well as his arguably more serious standing in the earlier games, Paul has increasingly become something of a joke character (story-wise). This is quite obviously evidenced by the facts that he is rivals with joke characters (Kuma I and II) and that his endings have become more comedic. Nevertheless, he is among the most popular and well-loved Tekken characters.
Gallery
Community content is available under
CC-BY-SA
unless otherwise noted.