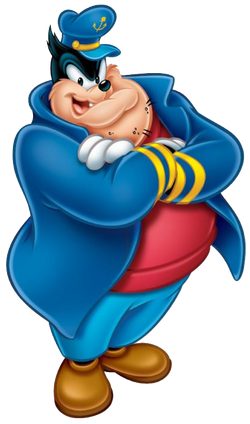 Pete is the main villain from Mickey Mouse.
He is a sorcerer
Pete played Fish Seller in Orinoladdin
Pete played the Sheriff of Nottingham in Trent Hood
He is a sheriff
He is a burglar
He is an alien warlord looking to get all six Infinity Gems.
Pete played Grunel in Elenalina
He is a Toad.
Potrayals
Pete is played by Bowser in

Rintoo, Tolee and Hoho: The Three Musketeers

Pete is played by Voldo in

Aimee, Victoria and Abby: The Three Power Girls

Pete is played by Shere Khan in Danny, Timon, and Baloo: The Three Musketeers
Pete is played by Dr. Eggman in Sonic, Rayman and Mario: The Three Musketeers
Pete is played by Lord Dominator in

Mabel, Beeza and Wander: The Three Superheroes

Pete as Peter Pete is Played BY Chief McBrusque In Basil troop and in Oliver Donald and tramp as Captain Pete is he Played By Meowrice and as Black Pete he is Played By Cat r waul
Pete as Peter Pete In Tramp troop he is fat ca and as Captain Pete in Three Musketeers played By Carface
Pete as Peter Pete
Gallery