This article's content is marked as Mature
This page contains content from media that may not be suitable for those under age of 18, which may include excessive violence or blood and gore, coarse language, and/or sexual content.


If you are 18 years old or older or are comfortable with such content, you are free to read this page, otherwise, you should view another page.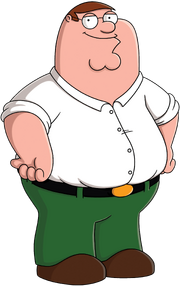 Peter Löwenbräu Griffin, Sr. is the protagonist of the show and title character. He's a man of Irish descent currently residing in Rhode Island with his wife Lois. He was, however, born in Mexico, where his mother had tried unsuccessfully to abort him. Peter attended Providence High School. Together, Peter and Lois have three children, Chris, Meg, and baby Stewie. In addition, he and Lois had a child named Peter Griffin Jr.. who died when Peter shook him too much. Out of pity he also adopted an intellectual talking dog named Brian who formerly lived on the street as a stray, an accepted fact in Brian's two adoption stories.Peter's best friends are Glenn Quagmire, Joe Swanson, Brian, and Cleveland. They enjoy hanging out at their local bar, The Drunken Clam, drinking and chewing the fat. The four men (often without Brian, although he has joined them on several occasions) do many things together. Once the four friends entered and won a costume contest at an 80s TV convention, dressing up as the A-Team. On another occasion, their fishing boat was wrecked, and they were stranded together on a desert island.
He is a Critic
Peter Griffin plays Don Lino in Steven Universe Crossover Shark Tale
He is a naughty boy who smoke cigars
Peter Griffin plays The King in Annarella
Peter Griffin plays Melvin Smiley in The Big Hit (Dragon Rockz Style)
He is a Meerkat
He is a Sea Star
He is an elephant
Peter Griffin plays Indian Chief in Jiminy Pan
He is a Clown
He is a troll
Peter Griffin Plays SkyTrain Mark I #118
He is a Green Diesel Engine
Portrayal
Gallery: