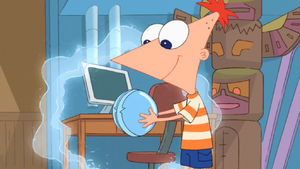 Phineas Flynn is the main character in Phineas and Ferb.
Phineas plays Adult Simba in The Redhead King
Phineas plays Leo in Little Einsteins (Rjvernel Style)
Phineas plays Tony Stark in The Beak
He is one of the detectives from homicide team.
He also directed 2 episodes on the series (S4E02 The War At Home; starring Penny Sanchez as Cpl. Dana Taylor and S6E08 Triple Threat starring Miki (Pokémon) as Nadia Koslov)
Portrayals
Other Appearance
Just Dance (Hamham31 Versions)
He is a former Just Dancer for the following (Hamham31 Version only):
Just Dance 1
TBA
Just Dance 2
TBA
Just Dance 3
TBA
Just Dance 4
TBA
Just Dance 2014
TBA
Just Dance 2015
This was his last appearance (alongside the other characters of Phineas N' Ferb series). They left the game for an unknown reason. They replaced by Adventure Time characters in their place on Just Dance 2016.
TBA
Later, he announced that he, alongside with Isabella will return on Just Dance 2019 as a special appearance on the game, however this is yet to be confirmed.
TBA
Gallery:
Trivia
His appearances in the Stephen Squirrelsky and Friends' Movie Spoof Travels are Bubblesrella 2: Dreams Come True, The Brave Little Piglet, Kung Fu Owen, Nikki's Adventures of Sing Along Songs Episode 8, The Thomas O'Malley Movie, Kermit Returns, Fievel the Red Nosed Mouse and The Island of Misfits, Nikki's Adventures of Sing Along Songs Episode 9, Finding Alvin, Animated Tale, The Forest Book 2, Nikki's Adventures of Sing Along Songs Episode 10, Madagascar, and Sleeping Beauty and will even be in more movie spoof travels.
Community content is available under
CC-BY-SA
unless otherwise noted.