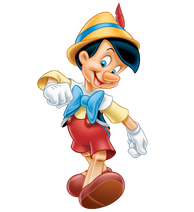 Pinocchio is a wooden puppet from Pinocchio.
He is a man cub
Pinocchio plays Glasses Crow in Roo (Dumbo)
He is a crow
He is a bear
Pinocchio plays Danny Darling in Anario Pan 2: Return to Neverland
Pinocchio plays Milo James Thatch in Atlantis: The Lost Empire (PierrickCanalFamille's Style)
Pinocchio plays Human Edmond in Frog-A-Doodle
He is a deer
Pinocchio plays Balto in Pinocchilto
Pinocchio plays Woody in Canal Famille Story, Canal Famille Story 2 and Canal Famille Story 3
He is an elephant
Pinocchio plays Olaf in

Frozen (PaddingtonandFernRockz Style)
Pinocchio plays Scary Lion in Canal FamilleTubbies
Pinocchio plays Scruffy the Janitor Futurama (PierrickCanalFamille Style)
Pinocchio plays Toby Turtle in Dimitri Hood
Pinocchio plays the Pumpkin headed kid in 3-2-1 Characters!
Pinocchio plays Oliver Twist in Pinocchio!
Voice Actors:
Dickie Jones - English
Rozina Kostani​ - Albanian (2002 dubbing)
Suela Qoshja - Albanian (????)
John Sameer - Arabic
Shihab El-Din Mahmoud - Arabic TV
Ari Marinho "Pinguinho" - Brazilian Portuguese (1940/old dub)
Carlos Alberto Mello (speaking) & Selma Lopes (singing) - Brazilian Portuguese (1966/new dub)
Vilimir Stoĭnev - Bulgarian
Luka Šop - Croatian
Matěj Štěpán - Czech
Ingeborg Brams​ - Danish (1940/old dub)
Daimi Gentle​ - Danish (1978/new dub)
Alexander Glæsel - Danish (????)
Frits Waterman - Dutch (1949/old dub)
Siert Peters - Dutch (1995/new dub)
Tuomas Oksanen - Finnish
Renée Dandry - French (1946/old dub)
Mark Lesser - French (1975/new dub)
Karl-Heinz Schenk - German (1951/old dub)
Oliver Rohrbeck - German (1973/new dub)
Yióryos Matarágas - Greek
Gil Segal - Hebrew
Domján Edit - Hungarian (1962/old dub)
Baradlay Viktor - Hungarian (2000/new dub)
Gísli Baldur Gíslason - Icelandic
Sasaki Kiyokazu - Japanese (1958/old dub)
Hatsuzawa Ari - Japanese (1983/old dub)
Gotō Masumi - Japanese (1986/old dub)
Tsuji Haruki - Japanese (1995/new dub)
Yada Chikako - Japanese (2007/Sekai Meisaku Anime Studio)
Kim Sun-Woo - Korean
Mario González "Cielito" - Latin Mexican Spanish
Zhāng Yǔ-Háo - Mandarin (Chinese)
Gaute Hol Skjegstad - Norwegian
Zofia Raciborska - Polish
Jasmim Castro - Portuguese (European)
Eduard Ispas (speaking) & Raul Stănulescu (singing) - Romanian
Artem Sergeyev (speaking) & Vyacheslav Sukhov (singing) - Russian
Inga Tidblad - Swedish (1941/old dub)
Johan Halldén - Swedish (1995/new dub)
Tibet Töre - Turkish
Portrayals
Poses
Main Article: Pinocchio/Gallery
Trivia
His appearances in the Stephen Squirrelsky and Friends' Movie Spoof Travels are Madagascar (FamousImaginaton50's Style), Sleeping Beauty (Justin Quintanilla's Style), Aurorastasia, Despicable Me (Justin Quintanilla's Style), We're Back!: A Jungle Animal's Story, The Wizard of Oz (Uranimated18's Style), Isabellan, 101 Trains, and Goku's Travels and will even be in more movie spoof travels.