(4 intermediate revisions by 2 users not shown)
Line 1:
Line 1:
−

'''Pipsqueak''', '''Pip Squeak''' or '''Pip''', is a young Earth pony from Trottingham who is first seen dressed up as a pirate for Nightmare Night in Luna Eclipsed. He also appears very briefly in Putting Your Hoof Down, running in the background. He makes a prominent return in the season four episode Twilight Time.[[File:Placeholder|right|300px]]

+

'''Pipsqueak''', '''Pip Squeak''' or '''Pip''', is a young Earth pony from Trottingham who is first seen dressed up as a pirate for Nightmare Night in Luna Eclipsed. He also appears very briefly in Putting Your Hoof Down, running in the background. He makes a prominent return in the season four episode Twilight Time.[[File:||]]

 
+

==Pipsqueak Plays Peter Shepherd in [https://parody.wikia.com/wiki/Jumanji_(The_Lightning_Storm_Pictures_Style)?redlink=1&action=edit&flow=create-page-article-redlink Jumanji (The Lightning Storm Pictures Style)]==

 

[[Category:Characters]]

 

[[Category:Characters]]

 

[[Category:Heroes]]

 

[[Category:Heroes]]

Line 6:
Line 7:
 

[[Category:Male Characters]]

 

[[Category:Male Characters]]

 

[[Category:Males]]

 

[[Category:Males]]

 
+

[[Category:Protagonists]]

 

[[Category:Anti-Heroes]]

 

[[Category:Anti-Heroes]]

 
+

[[Category:Pirates]]
---
Latest revision as of 20:57, 2 August 2018
Pipsqueak, Pip Squeak or Pip, is a young Earth pony from Trottingham who is first seen dressed up as a pirate for Nightmare Night in Luna Eclipsed. He also appears very briefly in Putting Your Hoof Down, running in the background. He makes a prominent return in the season four episode, Twilight Time.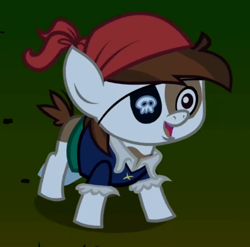 Community content is available under
CC-BY-SA
unless otherwise noted.