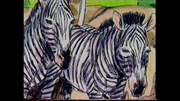 The iconic plains zebra (Equus quagga) is the most abundant and conspicuous of all Africa's diverse fauna. This species exhibits a large degree of diversity, and is currently separated into six subspecies based on variations in features such as coat patterning, the presence of a mane, extent of stripe coverage and body size. The plains zebra typically possesses relatively broad black stripes, which are vertical on the body, but become horizontal on the hindquarters. The presence of horizontal stripes on the legs and rump is, however, variable, with the extent of leg striping diminishing from the north to the south of the species' range. In some populations there may also be faint brown 'shadow' stripes between the main stripes. Various theories have been put forward to explain the function of zebra stripes, including dazzling predators and temperature regulation, but the most plausible theory appears to be that they serve a social function, stimulating group cohesion and grooming behaviour. Other methods of plains zebra communication include facial expressions, body movements, and sounds, such as a braying bark. An adaptable species, the plains zebra is capable of surviving in areas with coarse vegetation of little nutritional value, and is found at elevations up to 4,300 m. Although it has disappeared from many parts of its range, the plains zebra remains the most widespread and abundant equid on Earth. The plains zebra is often the first species to colonize unexploited areas of grassland, and is capable of traveling long distances to do so. 
Plains Zebra Subspecies
Roles
They played Odette, Derek, Queen Uberta and King William in The Artist Mare
It played Buttercup in The Powerpuff Animals (NatureRules1 Style), The Powerpuff Animals Movie (NatureRules1 Style), and The Powerpuff Animals (2016) (NatureRules1 Style)
It played Pegasus in Hercules (NatureRules1 Version)
They played Bambi, Faline, Bambi's Mother, The Great Prince of the Forest and Ronno in Bambi (NatureRules1 Version)
They played Annie, her parents and Grandpa George in WildlifeTales
They played the Rhesus Macaques in

Sahara Desert: The Secret Life of Sand

They played Donkey in Shrek (NatureRules1 Version)
It (along with Reticulated Giraffe) played Macrauchenia patachonica in North American Age series.
It played Skunk in Kingdom Hearts XD (NatureRules1 Version)
It played Charonosaurus in Speckles the Leopard
It played Squidward Tentacles in Spongebob Squarepants (NatureRules1 Version)
It played Princess Aurora and Prince Phillip in Sleeping Beauty (NatureRules1 Version)
It played Iguanodon in AFRICAN ANIMAL
It played Francis in A Wildlife's Life and An African Animal's Life (NatureRules1 Version)
It played Optimus Prime in Transformers: The Last Knight (ABS-CBN Style)
It played Dweeb in

We're Back! An African Animal's Story (Samwei1234 Version)

It played Boo in Carnivorans, Inc.
It played Lego in African Animal Mayhem
It played Zed in 64 Zoo Lane (NatureRules1 Version)
It played Alan-a-Dale in Robin Hood (Samwei1234 Version)
It played Wallabee Beatles/Numbuh 4 in Codename: African Species Next Door
It played Bubbles in Finding Nemo (NatureRules1 Version)
It played Ariel, Prince Eric and Princess Melody in The Little Mer-Zebra (NatureRules1 Version)
It played Maximus in Tangled (NatureRules1 Version)
It played Panda in We Bare Equids, We Bare Equids: The Movie, We Bare Herbivores, and

We Bare Herbivores: The Movie

It played Hamster in We Bare Crocodilians
It played Bubbles in The Powerpuff Equids, The Powerpuff Equids Movie, The Powerpuff Equids (2016), The Powerpuff Herbivores, The Powerpuff Herbivores Movie, and The Powerpuff Herbivores (2016)
It played Robin Synder in The Powerpuff Vultures
It played Grizz in We Bare Zebras and

We Bare Zebras: The Movie

It played Raphael in Teenage Mutant Ninja Equids
It played Donatello in Teenage Mutant Ninja Herbivores and Teenage Mutant African Animals
It played Emma (Mermaid) in Mako Ungulates, Mako Perissodactyls, Mako Grassland Animals, and Grasslands: Just Add Animals
It played Rikki (Mermaid) in Mako African Animals, Mako Herbivores, and Africa: Just Add Animals
It played Lyla (Mermaid) in Mako Continental Animals and Continents: Just Add Animals
It played Mermaid Maria in The3Tails Movie: A Meranimal Adventure (NatureRules1 Version)
Portayals
Gallery
Animal Alphabet
Is a Crocodile a Reptile?
Books
DK First Animal Encyclopedia