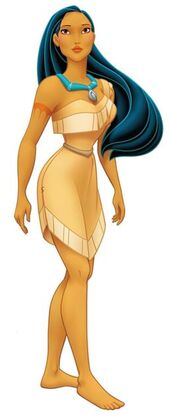 Pochantas is a beautiful girl in the 1995 film of the same name and its 1998 sequel.
She is a moon princess
She is from the Earth Kingdom
She is a Russian princess
She is a Lioness
She is a Sailor Scout
She is an Indian Princess
She is a Dwarf
She Played Sacagawea in

Night at the Toontown

,

Night at the Toontown 2

and

Night at the Toontown 3
She Played Stevonnie In Jimmy Neutron (Steven Universe) 
She Is A Gem Human Fusion
She is a cowgirl
Pocahontas was visited by Kenai and Fievel Mousekitz who came to see Goku. Later, she and the Asgardians were transported by the Masters of the Mystic Arts to assist the Avengers in the battle against an alternate timeline's Thanos and his army. Afterwards, Goku decided to leave Earth and made Pocahontas the King of New Asgard.
She is one of Cady's friends
Voice Actors:
Irene Bedard (Speaking Voice) - English

Judy Kuhn

(Singing Voice) - English

Yuko Doi

- Japanese
Marta Barbara - Spanish

Ilaria Stagni

- Italian

Katarzyna Tatarak

- Polish

Rita

- Hebrew
Rama Messinger - Hebrew
Lisette Dufour - French
Portrayals:
Gallery: