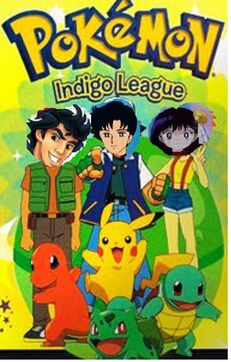 1961Movies' TV-spoof of Pokemon (1998). It will appear on YouTube in the near future in honor of Sun and Moon.
Cast:
Ash Ketchum - Darien/Tuxedo Mask (Sailor Moon)
Misty - Raye/Sailor Mars (Sailor Moon)
Brock - Aladdin
Pikachu - Himself
Jessie - Claudia Vorstein (The Chipmunk Adventure)
James - Claus Vorstein (The Chipmunk Adventure)
Meowth - Himself
Delia Ketchum - Miss Miller (Alvin and The Chipmunks)
Professor Oak - Raye's Grandpa (Sailor Moon)
Gary Oak - Chad (Sailor Moon)
Giovanni - Aldrin Klordane (Chip 'n Dale Rescue Rangers)
Tracey Sketchit - Andrew (Sailor Moon)
Officer Jenny - Sgt (Wreck t Ralph)
Nurse Joy - Tea (Yu-Gi-Oh)
Cassidy - Mistress 9 (Sailor Moon)
Butch - Dick Dastardly
Raticate - Himself
Ritchie - Ranma (Male) (Ranama)
Casey - Phoebe (The Magic School Bus)
Rudy - Future/Older Trunks (Dragon Ball Z/GT)
Professor Elm - Inspector Jamal (The Chipmunk Adventure)
Seasons:
Movies:
See Also:
Trivia:
In Italian, Raye/Sailor Mars and Misty both Voice of Alessandra Karpoff
Ash Ketchum was Darien/Tuxedo Mask in Sailor Serena (1701Movies Style), and Darien/Tuxedo Mask is Ash Ketchum in this spoof.
The main reason Raye/Sailor Mars is Misty is because they're both hotheads.
Gallery:
Community content is available under
CC-BY-SA
unless otherwise noted.