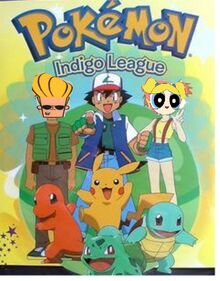 200Movies' TV-spoof of Pokemon (1998). It will appear on YouTube in the near future in honor of Sun and Moon.
Cast:
Ash Ketchum - Himself
Misty - Bubbles (The Powerpuff Girls)
Brock - Johnny Bravo
Pikachu - Himself
Jessie - Shego (Kim Possible)
James - Dr. Drakken (Kim Possible)
Meowth - Himself
Delia Ketchum - Herself
Timmy - Edward Grant (Marvel Disk Wars: The Avengers)
Reiko - ???
Seasons:
Movies:
See Also:
Specials:
Intros:
Trivia:
Brock played Johnny Bravo in Brock Bravo.
Both The Powerpuff Girls, and Pokemon were released in 1998.
Pokemon was released in Japan in 1997, the same year Johnny Bravo was released on TV in the USA.
Gallery:
Community content is available under
CC-BY-SA
unless otherwise noted.