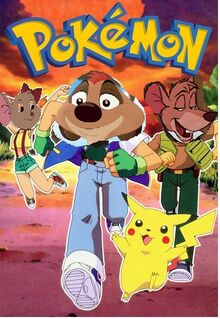 397Movies' TV spoof of Pokemon (1998). It will appear on YouTube in the near future.
Cast:
Ash Ketchum - Timon (The Lion King)
Misty - Olivia Flaversham (The Great Mouse Detective)
Brock - Basil (The Great Mouse Detective)
Pikachu - Himself
Delia Ketchum - Ma (The Lion King 3)
Professor Oak - Scuttle
Gary Oak - Iago
Nurse Joy - Luna
Officer Jenny - Jeanette Miller
Jessie - Zira (The Lion King 2: Simba's Pride)
James - Scar (The Lion King)
Meowth - Himself
Daisy - Jenny McBride (The Secret of NIMH 2: Timmy to the Rescue)
Lily - Abigail (Once Upon a Forest)
Violet - Gadget Hackwrench (Chip 'n Dale Rescue Rangers)
Cassidy - Ma Beagle (DuckTales)
Butch - Merlock (DuckTales the Movie: Treasure of the Lost Lamp)
Giovanni - Shere Khan (The Jungle Book)
AJ - Llama Kuzco (The Emperor's New Groove)
Seasons:
Trivia:
Gallery:
Community content is available under
CC-BY-SA
unless otherwise noted.