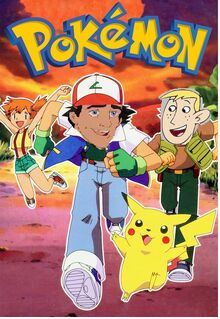 398Movies' TV-spoof of Pokemon (1998). It will appear on YouTube in the near future in honor of Sun and Moon.
Cast:
Ash Ketchum - Prince Eric (The Little Mermaid)
Misty - Herself
Brock - Ron Stoppable (Kim Possible)
Pikachu - Himself
Jessie - Carmen Sandiego (Where on Earth is Carmen Sandiego)
James - Warp Darkmatter (Buzz Lightyear of Star Command)
Meowth - Himself
Tracey Sketchit - Himself
Delia Ketchum - Anita Ratcliffe (101 Dalmatians)
Professor Oak - Himself
Gary Oak - Himself
Forrest - Curdie (The Princess and the Goblin)
Flint - Dexter's Dad (Dexter's Laboratory)
Cassidy - Yzma (The Emperor's New Groove)
Butch - Governor Ratcliffe (Pocahontas)
Giovanni - Percival C. McLeach (The Rescuer Down Under)
Persian - Himself
Daisy - Herself
Lily - Herself
Violet - Herself
AJ - Kuzco (The Emperor's New Groove)
Ritchie - Aladdin
Casey - Penelope
Seasons:
Movies:
See Also:
Specials:
Trivia:
Gallery:
Community content is available under
CC-BY-SA
unless otherwise noted.