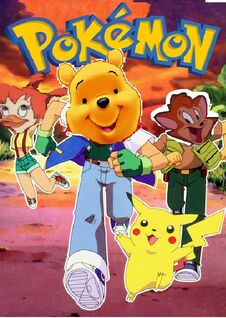 400Movies' TV-spoof of Pokemon (1998). It will appear on YouTube in the near future in honor of the 19th movie.
Cast:
Ash Ketchum - Winnie the Pooh
Misty - Gosalyn Mallard (Darkwing Duck)
Brock - Danny (Cats Don't Dance)
Pikachu - Himself
Jessie - Bianca Beakley (Darkwing Duck)
James - Negaduck (Darkwing Duck)
Meowth - Himself
Gary Oak - Scooby Doo
Professor Oak - Jock (Lady and the Tramp)
Tracey Sketchit - Tigger (Winnie the Pooh)
Delia Ketchum - Rebecca Cunningham (TaleSpin)
Cassidy - Muriel (The Secret of NIMH 2: Timmy to the Rescue)
Butch - Meowrice (Gay Purr-ee)
Raticate - Himself
Giovanni - Buster (Lady and the Tramp 2: Scamp's Adventure)
Persian - Himself
Ritchie - Boo Boo Bear
Sparky - Himself
Officer Jenny - Rainbow Dash (My Little Pony: Friendship is Magic)
Nurse Joy - Pinkie Pie (My Little Pony: Friendship is Magic)
Violet - Stella (Balto 3)
Daisy - Daisy Duck (Disney)
Lily - Jewel (Rio)
Koji - Nuka (The Lion Guard
Seasons:
Movies:
Pokemon Mewtwo Returns (400Movies Style)

Pokemon 3 The Movie (400Movies Animal Style)
Specials:
See Also:
Trivia:
Magica is already in TheBluesRockz's version of Pokemon who played Jessie.
Bugmaster and Negaduck are Gosalyn's enemies.
This TV spoof will be in loving memory of Maddie Blaustein (1960-2008), Meowth's voice actress.
This is the first TV spoof of 400Movies. The next is Ash n Brock Rescue Rangers.
Pooh's Grand Adventure: The Search for Christopher Robin, Cats Don't Dance, and Pokemon were released in 1997.
Gallery: