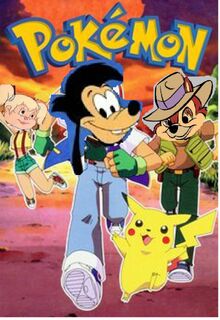 Chris1703's TV-spoof of Pokemon (1998). It will appear on YouTube in the near future in honor of Sun and Moon.
Cast:
Ash Ketchum - Max Goof (A Goofy Movie)
Misty - Eleanor Miller (Alvin and the Chipmunks)
Brock - Chip (Chip 'n Dale Rescue Rangers)
Pikachu - Himself
Delia ketchum - Sylvia (An Extremely Goofy Movie)
Jessie - Dawn (Zootopia)
James - Mojo Jojo (The Powerpuff Girls)
Meowth - Himself
Ekans - Himself
Koffing - Himself
Caterpie - Himself
Professor Oak - Thomas O'Malley (The Aristocats)
Gary Oak - Oliver (Oliver and Company)
Flint - Alvin Seville (Alvin and the Chipmunks)
Forrest - Basil (The Great Mouse Detective)
Brock's Siblings - Sandy Cheeks (Spongebob) Secret Squirrel Dale (Chip 'n Dale Rescue Rangers) Tweezle Dee (The Little Mouse) Giselle (Happy tree Friends)
Timmy Skippy (
Jerry Jr (Tom and Jerry Kids)
Nibbles (Tom and Jerry)
Symour - Robin Hood (Robin hood)
Daisy - Carrie (Chip n dale Shorties)
Violet - Tammy (Chip 'n Dale Rescue Rangers)
Lily - Jeanette Miller (Alvin and the Chipmunks)
AJ - Kovu (The Lion king 2:)
Giselle - Princess (Krypto the Superdog)
Joe - Squeaky the Supercat (Krypto the Superdog)
Melanie - Princess Atta (Bugs a Life)
Bulbasuar - Himself
Damian - Rat Capone (Chip 'n Dale Rescue Rangers)
Charmander - Himself
L.T Surg - Grayson (The Nod Job)
Raichu - Himself
Squirtle - Himself
Seasons:
Movie:
Specials
See Also:
Trivia:
Chip was Forrest, and Dale was Brock in DinosaurKingRockz's TV spoof, Pokemon (DinosaurKingRockz Animal Style).and Misty was Eleanor Miller In Ooglyeye's Spoof Gary and the Boys (1983)
The Main Reason Eleanor Miller Played Kasumi Because they're Both Tomboys.
This Chris1703's second TV Spoof, the firs being Sailor Brittany
Gallery:
Community content is available under
CC-BY-SA
unless otherwise noted.