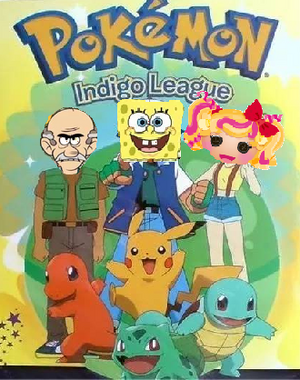 MIXWIKI09's TV-spoof of Pokemon (1998). It will appear on YouTube in the near future.
Cast:
Ash Ketchum - Spongebob Squarepants
Misty - Spot Splatter Splash (Lalaloopsy)
Brock - Principal Huggins (The Loud House)
Pikachu - Himself
Jessie - Karen (Spongebob Squarepants)
James - Plankton (Spongebob Squarepants)
Meowth - Himself
Tracey Sketchit - Patrick Star (Spongebob Squarepants)
Delia Ketchum - Margaret SquarePants (Spongebob Squarepants)
Professor Oak - Mr. Krabs (Spongebob Squarepants)
Gary Oak - Sebastian (The Little Mermaid)
Cassidy - Clauida Furschtein (The Chipmunk Adventure)
Butch - Danno Wolfee (Curious George 2: Follow That Monkey)
Giovanni - The Horned King
Persian - Himself
AJ - Eraser (Battle for Dream Island)
Casey - Isabella (Phineas and Ferb)
Seasons:
Movies:
See Also:
Trivia:
The Main Reason Wilbur Huggins Played Brock Because they're Both Had Jobs (since Huggins as Principal, and Brock as Pokemon Doctor).
Karen and Plankton is Spongebob's arch enemies
The Main Reason Rosy Bumps N Briuses Played Nurse Joy Because they are both nurses.
Gallery:
Community content is available under
CC-BY-SA
unless otherwise noted.