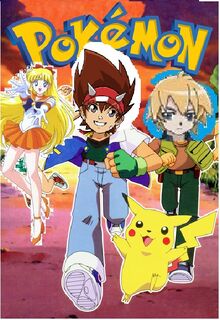 Ooglyeye's TV spoof of Pokemon (1998). It will appear on YouTube in the near future in honor of the 19th movie.
Cast:
Ash Ketchum - Max Taylor (Dinosaur King)
Misty - Mina/Sailor Venus (Sailor Moon)
Brock - Rex Owen (Dinosaur King)
Pikachu - Himself
Jessie - Ursula (Dinosaur King)
James - Zander (Dinosaur King)
Meowth - Himself
Tracey Sketchit - Ron Stoppable (Kim Possible)
Delia Ketchum - Aki Taylor (Dinosaur King)
Cassidy - Shego (Kim Possible)
Butch - Drakken (Kim Possible)
Raticate - Himself
Giovannni - Dr. Z (Dinosaur King)
Persian - Himself
Seasons:
Movies:
See Also:
Specials:
Trivia:
Gallery:
Community content is available under
CC-BY-SA
unless otherwise noted.