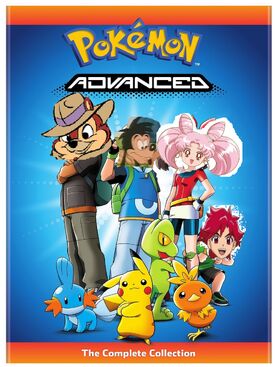 Chris1703's TV-spoof of Pokemon Advanced Generation (2003). It will appear on YouTube in the near future in honor of 20th movie.
Cast:
Ash Ketchum - Max Goof (Goof Troop)
May - Rini/Sailor Mini Tsukino (Sailor Moon)
Max - Rai (Tai Chi Chaser)
Brock - Chip (Chip 'n Dale Rescue Rangers)
Misty - Eleanor Miller (Alvin and the Chipmunks)
Togepi - Herself
Pikachu - Himself
Jessie - Dawn Bellwether (Zootopia)
James - Mojo Jojo (The Powerpuff Girls)
Drew - Tori (Tai Chi Chaser)
Harley - Dan Kuso (Bakugan Brawl Battles)
Professor Birch - Andrew (Sailor Moon)
Norman - Darien/Tuxedo Mask (Sailor Moon)
Caroline - Serena/Sailor Moon
Seasons:
Movies:
Trivia:
Gallery:
Community content is available under
CC-BY-SA
unless otherwise noted.