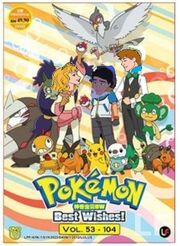 398Movies' TV Spoof of Pokemon Best Wishes (2011). It will appear on YouTube in the near future in honor of Sun and Moon.
Cast:
Ash Ketchum - Eric (The Little Mermaid)
Iris - Princess Aurora (Sleeping Beauty)
Cilan - Prince Phillip (Sleeping Beauty)
Pikachu - Himself
Axew - Himself
Jessie - Carmen Sandiego (Where on Earth is Carmen Sandiego)
James - Warp Darkmatter (Buzz Lightyear of Star Command)
Meowth - Himself
Chili - ???
Cress - ???
Professor Juniper - ???
Professor Carolina - ???
Trip - ???
Seasons:
Trivia:
Gallery:
Community content is available under
CC-BY-SA
unless otherwise noted.