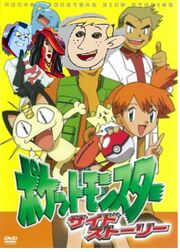 398Movies' TV spoof of Pokemon Chronicles (2006). It will appear on YouTube in the near future.
Cast:
Brock - Ron Stoppable (Kim Possible)
Flint - Dexter's Dad
Lola - Dexter's Mom
Forrest - Curdie (The Princess and the Goblin)
Brock Siblings - Dee Dee Emmy (Dragon Tales) Dipper Pines, Riley Andersen (Inside out) Wart Cody and Christopher Sherman and Dexter
Misty - Herself
Daisy - Herself
Lily - Herself
Violet - Herself
Cassidy - Yzma
Butch - Ratcliffe
Ritchie - Aladdin
Tracey - Himself
Silver - Genie
Episodes:
Oaknapped
Celebi and Jenny foxworth
Gallery:
Community content is available under
CC-BY-SA
unless otherwise noted.