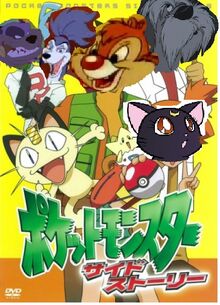 DinosaurKingRockz's TV spoof of Pokemon Chronicles (2006). It will appear on YouTube in the near future.
Cast:
Brock - Dale (Chip 'n Dale Rescue Rangers)
Misty - Luna (Sailor Moon)
Cassidy - Zsa Zsa Labrador (Chip 'n Dale Rescue Rangers)
Butch - Buster (Lady and the Tramp 2: Scamp's Adventure)
Ritchie - Scooby Dum (The Scooby Doo Show)
Officer Jenny - Judy Hopps (Zootopia)
Nurse Joy - Olivia Flaversham (The Great Mouse Detective)
Jimmy - EB (Hop)
Marina - Yin (Yin Yang Yo)
Tracey Sketchit - Courage (Courage the Cowardly Dog)
Sakura - Apple Bloom (My Little Pony: Friendship is Magic)
Episodes:
Trivia:
Gallery:
Community content is available under
CC-BY-SA
unless otherwise noted.