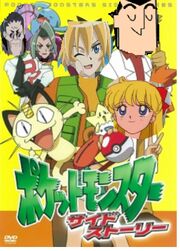 Ooglyeye's TV spoof of Pokemon Chronicles (2006). It will appear on YouTube in the near future.
Cast:
Brock - Rex Owen (Dinosaur King)
Misty - Mina/Sailor Venus (Sailor Moon)
Professor Brown - Dallben (The Black Cauldron)
Kate - Mrs. Jenkins (Pocahontas 2: Journey to a New World)
Cassidy - Shego (Kim Possible)
Butch - Dr. Drakken (Kim Possible)
Ritchie - Melvin Butler (Sailor Moon)
Daisy - Lita/Sailor Jupiter (Sailor Moon)
Officer Jenny - Herself
Ron Stoppable (Kim Possible)
Sakura - Lilo
Flint - Dr. Owen
Lola - Carlotta
Forrest - Cody
Brock's Siblings -
Silver - Himself
Jimmy - Link
Marina - Zelda
Episodes:
The Legend of Thunder Part 1
The Legend of Thunder Part 2
The Legend of Thunder Part 3
Trivia:
Gallery:
Community content is available under
CC-BY-SA
unless otherwise noted.