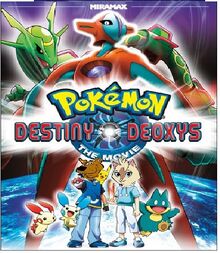 DinosaurKingRockz's movie-spoof of Pokemon: Destiny Deoxys (2005). It will appear on YouTube in the near future.
Cast:
Ash Ketchum - Scooby Doo
May - Gadget Hackwrench (Chip 'n Dale Rescue Rangers)
Max - Fievel Mousekewitz (An American Tail)
Brock - Dale (Chip 'n Dale Rescue Rangers)
Pikachu - Himself
Jessie - Belladonna (An All Dogs Christmas Carol)
James - Carface (All Dogs Go to Heaven)
Meowth - Himself
Tory Lund - Dongwa (Sagwa the Chinese Siamese Cat)
Professor Lund - Baba Miao (Sagwa the Chinese Siamese Cat)
Yuko - Harriet (Chip 'n Dale Rescue Rangers)
Rafe - Hong Kong Phooey
Sid - Sid (Flushed Away)
Rebecca - Nellie Brie (An American Tail 4: The Mystery of the Night Monster)
Audrey and Katheryn - Danielle and Collete (Lady and the Tramp)
Officer Jenny - Judy Hopps (Zootopia)
Munchlax - Himself
Deoxys - Himself
Trivia:
Scooby Doo says Scooby Dooby Doo at the end of this spoof.
This is an NTSC spoof.
Both Scooby Doo: Where's My Mummy and Pokemon: Destiny Deoxys were released in 2005.
Scooby Doo 2: Monsters Unleashed, and Scooby Doo and the Loch Ness Monster were released in 2004, the same year Pokemon: Destiny Deoxys was released in Japan.
This is another time to use the The Scooby Doo Show intro at the beginning.
Gallery:
Community content is available under
CC-BY-SA
unless otherwise noted.