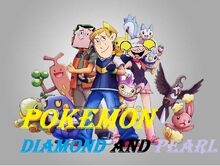 1701Movies' TV Spoof of Pokemon Diamond and Pearl (2007). It will appear on YouTube in the near future in honor of the 19th movie.
Cast:
Ash Ketchum - Ron Stoppable (Kim Possible)
Dawn - Dee Dee (Dexter's Laboratory)
Brock - Professor Utonium (The Powerpuff Girls)
Pikachu - Himself
Piplup - Himself
Jessie - Queen Beryl (Sailor Moon)
James - Aldrin Klordane (Chip 'n Dale Rescue Rangers)
Meowth - Himself
Wobbuffet - Himself
Carnivine - Himself
Paul - Mandark (Dexter's Laboratory)
Professor Rowan - Dallben (The Black Cauldron)
Nando - Sideshow Mel (The Simpsons)
Minnie - Clara (The Nutcracker and the Mouseking)
Kenny - Wasabi (Big Hero 6)
Zoey - Janine Melnitz (The Real Ghostbusters)
Barry - Fred (Big Hero 6)
Roark - Himself
Reggie - Dexter (Dexter's Laboratory)
Gardenia - Reese Drake (Dinosaur King)
Seasons:
Movies:
Trivia:
Gallery:
Community content is available under
CC-BY-SA
unless otherwise noted.