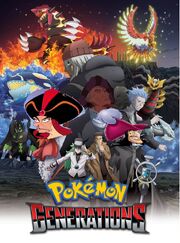 Ooglyeye's TV spoof of Pokemon Generations (2016). It will appear on YouTube in the near future.
Cast:
Red - Ash Ketchum (Pokemon)
Blue - Gary Oak (Pokemon)
The Looker - Himself
Giovanni - Judge Claude Frollo
Silver - Dimitri (Anastasia)
Iris - Wendy (Peter Pan)
Lorelei - Velma (Scooby Doo)
Bruno - Samurai Jack
Agatha - Nanny (101 Dalmatians)
Lance - Himself
Maxie - Dr. Drakken
Cheryl - ???
Cyrus - Himself
Ghetsis - Captain Hook
Episodes:
Trivia:
Gallery:
Community content is available under
CC-BY-SA
unless otherwise noted.