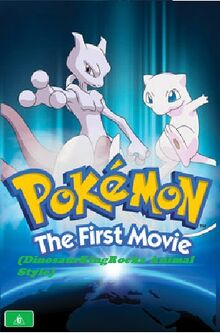 DinosaurKingRockz's movie-spoof of Pokemon: The First Movie (1999). It will appear on YouTube in the near future.
Cast:
Ash Ketchum - Scooby Doo
Misty - Luna (Sailor Moon)
Brock - Dale (Chip 'n Dale Rescue Rangers)
Pikachu - Himself
Togepi - Herself
Jessie - Belladonna (An All Dogs Christmas Carol)
James - Carface (All Dogs Go to Heaven)
Meowth - Himself
Mew - Himself
Mewtwo - Himself
Officer Jenny - Judy Hopps (Zootopia)
Nurse Joy - Olivia Flaversham (The Great Mouse Detective)
Miranda - Mrs. Judson (The Great Mouse Detective)
Fergus - Jeremy (The Secret of NIMH)
Neesha - Jenna (Balto)
Corey - Kerchak (Tarzan)
Giovanni - HIM (The Powerpuff Girls)
Raymond - Peppo (The Aristocats)
See Also:
Quotes:
Scooby Doo: You're not gonna get Pikachu!
Trivia:
This is the second movie-spoof to use the The Scooby Doo Show intro. The first being Beauty and the Fox (DinosaurKingRockz Style).
This is also the first time Scooby Doo says Scooby Dooby Doo. He does it at the very end in the credits after Mew leaves. That scene will be from Scooby Doo on Zombie Island where he feeds the cats.
Pokemon: The First Movie was released in Japan in 1998, the same year 17 episodes of Sailor Moon R was released on TV, and Scooby Doo on Zombie Island was released on home video.
Scooby Doo and the Witch's Ghost, Tarzan, and Pokemon: The First Movie were released in 1999.
Gallery:
Community content is available under
CC-BY-SA
unless otherwise noted.