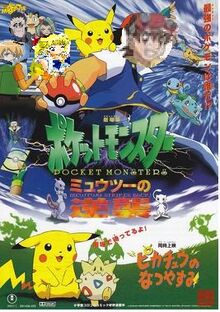 Ooglyeye's movie-spoof of Pokemon: The First Movie (1999). It will appear on YouTube in the near future.
Cast:
Ash Ketchum - Max Taylor (Dinosaur King)
Misty - Mina/Sailor Venus (Sailor Moon)
Brock - Rex Owen (Dinosaur King)
Pikachu - Himself
Togepi - Herself
Jessie - Ursula (Dinosaur King)
James - Ursula (Dinosaur King)
Meowth - Himself
Mewtwo - Himself
Officer Jenny - Herself
Nurse Joy - Herself
Miranda - Brittany Miller (Alvin and the Chipmunks)
Fergus - Basil of Baker Street (The Great Mouse Detective)
Neesha - Morgana (Darkwing Duck)
Giovanni - Dr. Z (Dinosaur King)
Raymond - Scooby Doo
See Also:
Trivia:
This Movie Will by playing near the rescue ranger of notre dame
An another spoof with Dinosaur ??? Intro
This spoof has a Double Feature with Petrie and the Lions' Den
Quotes:
Max Taylor:Hungry. Need food.
Misty:Oh, Max, you haven't done a thing all day.
Max Taylor:I'm too weak to work, Misty. I haven't eaten since breakfast.
Max Taylor: You're not gonna get Pikachu!
Gallery:
Community content is available under
CC-BY-SA
unless otherwise noted.