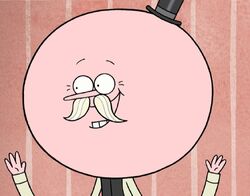 Pops is one of the main characters from "Regular Show".
Pops and Skips played as Ben and Lon in Gwenahontas
He is a Settler
Pops played as Uncle Drosselmeyer in The Fox Prince
He is a wizard and Hans' Uncle
Pops Played As Pumbaa In The Dinosaur King The Dinosaur King 2 Arlos Pride The Dinosaur King 1 1/2 (TureDisneyLoverKing)
He Is A Warthog
Gallery
Trivia
His appearances in the Stephen Squirrelsky and Friends' Movie Spoof Travels are Cloudy with a Chance of Meatballs, Finding Alvin, Animated Tale, The Forest Book 2, Nikki's Adventures of Sing Along Songs Episode 10, Madagascar, and Sleeping Beauty and will even be in more movie spoof travels.
Community content is available under
CC-BY-SA
unless otherwise noted.