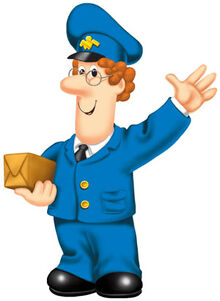 Postman Pat is the title character of the animated TV show, Postman Pat. He drives his red van around the village of Greendale to deliver the letters and parcels to all his friends. He is voiced by Ken Barrie (seasons 1-5), and Lewis Macleoud (season 6 onwards).
Character information
Personality: Friendly, kind, nice, clever, hard-working, thoughtful, helpful, funny.
Appearance: Blue postman uniform, white shirt underneath, black bow-tie, fair skin, long nose, orange hair, glasses, blue postman hat with a yellow crown on it, black shoes.
Alignment: Good.
Goal: To deliver all the letters and parcels to the people of Greendale.
Home: Greendale.
Occupation: Postman of Greendale, Sara Clifton's husband, Julian Clifton's father.
Relatives: Sara Clifton (wife), Julian Clifton (son).
Pets: Jess (cat).
Allies: Mrs. Goggins, Peter Fogg, Alf Thompson, Dorothy Thompson, Bill Thompson, Arthur Selby, Lucy Selby, Mrs Pottage, Tom and Katy Pottage, Ted Glen, Ned Glen, Sam Waldron, Reverend Timms, Ajay Bains, Nisha Bains, Meera Bains, Nichill Bains, Major Forbes, Jeff Pringle, Charlie Pringle, Ben Taylor, Lauren Taylor, Lizzy Taylor, Mr. Brown.
Likes: Delivering the post to his friends, his wife Sara, his son Julian, his van, his friends, getting his work done on time.
Gallery
Community content is available under
CC-BY-SA
unless otherwise noted.