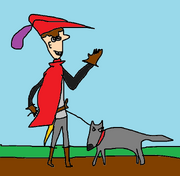 Prince Anario (aka Alvin Andrew Eval) (born November 11, 2005) is Princess Oriana's beloved husband.
He is a smuggler
He Played Dr. James Harvey in ??? (Casper)
He is a Foley father
He Played Stu Pickles In RugKids
He Played The Prince In Oriana White and the Seven Boys
He is a prince
He is a rootin' tootin' cowboy
He Played Prince Charming In Orianarella
He is a prince
He Played Peter Pan In Anario Pan
He is a lost boy
He Played Prince Phillip In Sleeping Beauty (160 Movies Style)
He is a prince
He played Wart in The Sword in the Stone (160 Movies Style)
He is a prince
He is a human prince
He Played Aladdin In Anarioladdin
He is a street rat
He Played Hercules In Anariocules
He Played Li Shang In Orianalan
He Played Tarzan In Anariozan
He Played Mufasa In The Medieval King
He is Simba's father
He Played Prince Cornelius In Orianalina
He Played Mr. "Daddy" Starling in Kovu and RJ: The Movie
He is Robyn's father
He played Basil in The Great Super Italian Detective
He played Timmy Brisby in The Secret of NIMH (160 Movies Human Style)
He is Jason Jeremiah's stepbrother
He Played Chief Powhatan in Camillehontas
He is an Indian chief
He Played Cinderella's Father in Camillerella
He Played Edmond's Father in Felix-A-Doodle
He is a law enforcement officer
He is a thief king
He played George Jetson in The Evals
He is a sea king
He is a singing cowboy
He is Mulan's Father
He played Ben-Hur in Anari-Hur
He played Eggs in The Boxtrolls (??? Style)
Relatives
Wife-Princess Oriana
Father-Patrick Eval
Mother-Talisa Korg-Eval
Brothers-Adam and Zachary Eval
Paternal Cousins-Marilyn and Kyle Rowland
Paternal Aunt-Patricia Eval-Rowland
Paternal Grandparents-Gerald and Oletta Eval
Maternal Grandparents-George and Nancy Korg
Maternal Aunt-Lindsey Korg
Maternal Cousins-Melinda and Melisa Korg, Jason and Justin Korg
Daughters-Princess Camille and Rosie
Son-Gus
Sons in law-Nemo and Josh Spitz
Daughter in law-Jessica
Sisters in law-June Hilton-Eval, Pauline Eval and Riley Andersen
Nephew-Matthew Eval
Niece-Veronica Eval
Parents in law-Bill and Jill Andersen
Brothers in law-Lewis and Ted Wiggins
Pets
Voice Actors
John Terlesky - English
Enemies
Zygon and Morgana
Jafar and Ursula
Dr. Pablo Motos and Eris
Andy Foley (Aka The Beast of Evil)
Routers (Porter Cable 100 series)
Master Router (Black and Decker 7600)
Appearance
Slender, but strong, 17 years old, handsome, shoulder-length blondish-brown hair and blue eyes, brown thick eyebrows, wearing a light beige button-up t-shirt with yellow, blue, indigo and brown stripes, black pants and black casual boots
Trivia
Anario bears a physical resemblance to Derek
Community content is available under
CC-BY-SA
unless otherwise noted.